Siberia

After a 5-hour stop at Moscow airport and a 5-hour flight I arrived in Irkutsk. From there it was a short hop to Listvjanka at lake Baikal. I stayed there for 3 days. Was walking around so much almost visited every nook and cranny of Listvjanka. After searching for two days I finally managed to organize a scuba diving trip in Lake Baikal. The water temperature was 10 to 13 Celsius, so I got a full-body wetsuit. Unfortunately, I discovered that end of July is a very bad time for diving in Lake Baikal, the vizibility was only 2 to 3 metres and we saw almost nothing, many snails, a couple of small fish and a christmas tree used as an anchor. Between end of August and June the vizibility is normally 20 to 30 metres! Maybe a reason to go again :-)
Today I explored Irkutsk, from where I'll take the trans-sibirean railway to Ulaanbaatar tomorrow morning.

Mittelerdefest 5

It all started last Wednesday, ~ 80 people met in Kandersteg to wander over the Gemmi, which was renamed to Caradhras for this adventure. Many came in their costumes, some even with scale armour or chain mail. Which caused oncoming hikers to wonder what we were up to. I spent most of the tour with Ranarion & Naraka. It took us almost 8 hours to reach our destination, however, there were many long breaks in between for Lunch, Drinks and to catch our breath. The scenery was amazing and the sun was out most of the time. After dinner we heard traditional folk tales in the local dialect, which at times was hard to understand, even for Swiss German speakers.

Thursday morning we took the Gondola down to Leukerbad to visit one of the spas. We arrived in Leuk shortly after two p.m. Naraka and I went directly to the first workshop, Hobbit Dances. First we learnt the basic steps and at the end of the two-hours we had rehearsed almost a complete dance. Together with Silver and Azrael I joined the guided tour of Leuk, where we visited the local chamber of bones. After dinner, an excellent swordfight show and the traditional torch procession through Leuk, Glenn of Guinnes played the first concert and we danced throughout the whole set.

On Friday I woke up with extremely sore muscles in my legs. But after half an hour in the hotel pools and a lengthy breakfast I could walk again. The first workshop was Rohan Dances, this time we spent much more time to practise the basic steps and at the end of the first part we barely had the first part of the dance together. After a two-hour break the second part took place and in hard work we managed to learn the complete dance. I returned to the main area in time to see the finalists of the costume competition. This evening there were two concerts. First the Bell Bottoms a local band playing Irish Folk and then Fiddler's Green from Germany.

Saturday started with sore muscles, as expected, and the second part of the Hobbit Dances Workshop. We repeated and completed the first dance and then practised another one. I found Jan and Naraka playing guitar and singing songs so I joined them. Later the different dance and music workshops presented what they learned. This meant that I first danced with the Rohan group and then the two pieces with the Hobbit group. Even though I made a couple of mistakes it was great fun and I was very pleased with my achievement. Next was the big medieval banquet, one of the highlights of the festival. The last band to play was Schelmish a group specialising in medieval music. Their show was great and everyone joined in dancing and jumping around. A big fireworks display put a worthy end to these wonderful four days.

It ended way too soon. The atmosphere of the Mittelerdefest is simply unique, everyone is friendly and it is extremely easy to get to know new people. It is amazing how much effort is invested into the costumes. For four days I felt that I was part of Middle-Earth. Thanks to everyone who made it possible and especially to those that made it special.

Labels: mef, Middle Earth, Mittelerde



Mittelerdefest 5 - Pictures

After four fantastic days, the Mittelerdefest had to come to an end.
My pictures: http://www.im-spycher.ch/scrappy/mef5/
More pictures can be found at: http://www.snaplife.ch/gallery2005_3/view_album.php?set_albumName=mef5

I'll write more about the festival tomorrow, now I'm way too tired.

Labels: Middle Earth, Mittelerde



Lost in a good Book!

I got my copy of Harry Potter and the half-blood Prince at 10am on Saturday morning and read it almost in one go. Because of a 3-hour break to go to the Abart Summer party in Zurich I finally fell asleep 5 pages before the end of the book.

The pace is very high and there are now scenes, as in Harry Potter and the Order of the Phoenix, which seem to take forever. It is apparent that the series is nearing its showdown, we get to now many details about You-know-who's background and the fatalities rise considerably.

The only negative aspect of HP6 is that we'll have to wait about two years to find out how it continues...

End of term

Finally, the second year of University is over. Now it's time for a long summer break, however, I wont be idle, next week I'll participate at a Middle Earth festival in Leuk. One week later I'll go to Siberia for 5 days, then take the train to Ulaanbaatar and start my practical training.

The Big Over Easy by Jasper Fforde

Humpty Dumpty fell off his wall. Was it suicide or murder? Detective Inspector Jack Spratt has to try to solve the mystery of Humpty's death, however, as head of the Nursery Crime Division he is chronically understaffed and not very popular with his fellow detectives.

A hilarious novel in which nursery and fairy tale characters live side by side with "real" people, and the best thing is that it always stays believable. A must read! 10 out of 10

Member of a crazy yoga sect?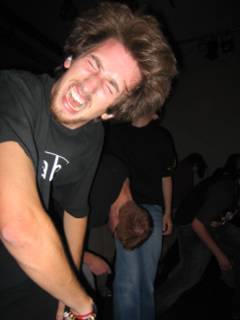 That was the question Alex's Photography teacher asked after seeing this picture. But everything in order. Alex had to do a small project for his Photography course and he asked me if I'd be willing to pose in different situations. You can see the results here.

The picture above was taken by Alex during the Mostly Harmless concert in St. Gallen three weeks ago, this one was not faked.

During the presentation of the results this famous question occured, however, a couple of fellow students came to my defense (I wasn't in this course) and enlightened the teacher that I was just having fun at a concert :-).

MIT Weblog Survey 2005